Testimonials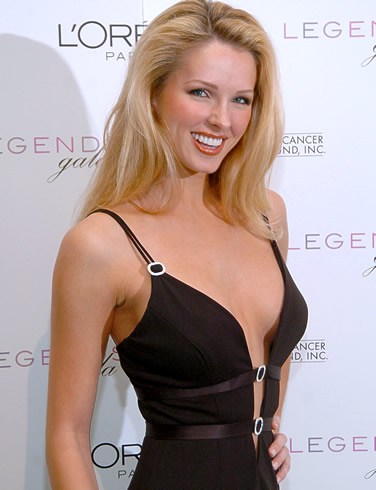 Shandi Finnessey, Miss USA 2004
"Since becoming Miss USA on April 12th 2004, I moved to New York City to live in a trump building with Miss Universe and Miss Teen USA. Shortly after my move, I began my preparations for the Miss Universe competition, which was held on June 1st in Quito, Ecuador. I did not have much time to spend in the gym and had difficulty motivating myself to workout.
However, I needed to continue my workouts and wanted a trainer that was certified and knowledgeable about not only fitness but, nutrition. I was referred to Sid and Reebok. After only one session, I knew that Sid would be perfect for my preparations. He not only helped to define my muscles and build shape, but he helped to advise me on proper foods to eat. Sid helped to motivate me to actually WANT to workout.
I competed at Miss Universe and finished First Runner-Up. I feel that Sid is partially responsible for having me look as great as I could and have the strength and stamina to endure the three weeks of competition."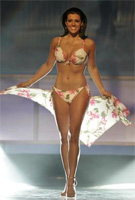 Chelsea Cooley, Miss USA 2005
"Working out wasn't always conducive with my schedule as Miss USA. Sid helped me find ways to utilize his workout plans while I was traveling; he was always there for me. I've worked with trainers in the past and can honestly say that Sid is a 10! He takes time to form a friendship with his clients but isn't afraid to challenge them. He is passionate about helping his clients achieve the physique they desire. I love working with him."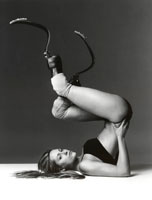 Aimee Mullins, Professional Model & Actress photo by Howard Schatz
"What makes 'Sid' stand out from other trainers? It is his innate ability to train every body, to teach his clients how to adapt a workout to the exact demands of your age, strength, disability, flexibility and life outside the gym. Sid will push us, support us, get creative with us, but ultimately his 'training' is to help us find the motivation within ourselves to find our best bodies and keep our best selves."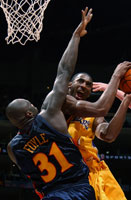 Adonal Foyle, Professional Basketball player (NBA, Orlando Magic)
"Sid is one of the most gifted trainers I have come across. He is hands on. He understands how to get the most out of his clients each day. His approach to training is one of tough love, but he makes you feel he is invested in your ultimate goals. At the end of the day, he inspires you to be great."
Stephen Eriksen, Sports Business Manager / Adonal Foyle (AFE)
"Robert Sidbury is the ideal trainer for today's professional athletes. Off-season or in-season, Robert is the consummate professional who brings both experience and passion to each workout. As our year round strength and conditioning coach, we utilize his services in all facets of the industry. Support includes: off-season workouts, training camp support, travel work-outs, NYC training sessions and on-site home gym property management."
Greg Landry, Sports Agent for CAA
"I trained with Robert Sidbury over the course of a 2 year period and I was extremely pleased with the results. after hearing my desires to become healthier and more physically fit, Robert tailored and implemented a program to help me achieve these goals. His knowledge, professionalism, and motivational ability clearly rank him as one of the top fitness and personal trainers. I would recommend him to anyone who wants results -- and I have!!"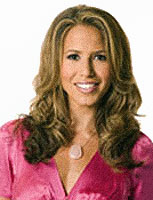 Marysol Castro, ABC Good Morning America Correspondent & GMA weekend
"Don't call him a professional counter. That's what so many trainers are these days. I asked for a trainer with 'drill sergeant-like qualities.' One Robert Sidbury would answer the call.
We've trained for three years now. One of the most impressive attributes this man possesses- he can train you through anything and for anything. At the beginning, I just wanted to get back in shape. I've been an athlete since I was a zygote but had spent way too much time working in the office instead of the gym. I needed someone that was up for the challenge.
I've worked with other trainers and was successfully able to outsmart them. Not Sid. He not only got me in shape, he utilized what I already had and took me to the next level. We sprinted, we lifted, we jumped, we pushed, we pulled and pulled-up ('cause chin-ups are for wimps), we used a band, a ball, weights, my own weight and every other imaginable training tool.
Somewhere along the line I thought I'd do a triathlon. He trained me for that too. He knew my body had to learn how to multi-task his programs gave me the strength and muscle memory to successfully finish my first triathlon. Little did he know that just one month before my race, I was two months pregnant.
Follow me now... I was three months pregnant during my first triathlon. So not only did he get my body in shape for swimming a half mile, biking 17 and then running 6, he also prepared me for 9 months of pregnancy. He helped me maintain a healthy weight and convinced me that it was okay to weight train while pregnant. In fact, he told me in the end I'd be better off. He was right. Even when all I wanted to do was take a nap, he convinced me that both me and the baby boy inside of me would be better off with a little exercise. Four months after I squeezed that kid out, Sid had me back in shape. And he didn't hold back. And I hope he never does."
Julie Jacobs, Director of Sales and Marketing, Watson Adventures
I have been working with Robert Sidbury for the past eight years. He has seen me through my wedding, my first pregnancy and then, the most difficult of all, another pregnancy when I was carrying twins (and had a c-section). These life milestones presented a variety of training issues for Sid. With each situation I had moments where I thought my body would never be what it once was. I should never have doubted Sid because he rose to the occasion each time. And, besides that, he is a delight to see week in and week out -- always changing up the routine and our workout. Whenever I am complimented on my body, I credit my secret weapon.....Robert Sidbury.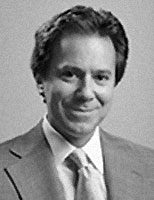 Will Zeckendorf, President of Zeckendorf Realty
"I have had the pleasure of working with Robert Sidbury as a trainer for the past 8 years. During the time we have worked together, approximately once a week, Sid has brought a whole new perspective to me on personal fitness. My range of motion and strength have increased remarkably and my whole attitude toward fitness has progressed dramatically thanks to Sid's guidance and teaching. I have always found Sid to be personable, hard working, extraordinarily well organized and an outstanding trainer."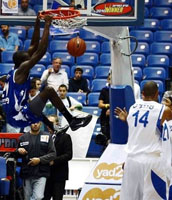 Shawn James, Professional Basketball Player #21 Center, TEAM: Bnei Hasharon (Israel) 08'-11', 2011 - Maccabi Tel Aviv
"I have been playing basketball for some time now in both college & professional. I have never had a year like I did last year and I owe all of that to "Sid" and his training methods. Sid brings out the true athlete in me and makes me compete in every training session. It's rare that you meet a trainer that makes training fun and competitive; but "Sid" does that with his unique style of training and his professionalism that he brings to every training session."